Writers Showcase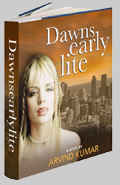 Dawns early lite


Author: Arvind Kumar

Category: Mainstream fiction
Status of MS: Completed and professionally edited Length: 92,578 words
Synopsis:

Born to a respectable French-Canadian family, Dawn L'Andry shows promise as a student and dreams of becoming a schoolteacher. But her craving for both love and luxury cause her ultimate downfall.
After leaving her home and beloved father to attend university in Montréal, she finds life on a tight budget more difficult than she had anticipated. A fellow waitress at the restaurant where she earns a few extra dollars introduces her to the head of an escort service, and Dawn is sucked into a hooker's life. She also fulfills her dream of teaching, but her nighttime activities often distract her from her altruistic mission. Her obsession with money and fascination with the idea of sex with strangers keep her constantly on the edge. Sought after by rich and famous clients, she engages in dangerous, exploitative acts with an adeptness that always makes them want more.
But an encounter with Sanjay, a wealthy, married East Indian physician, turns Dawn's carefully arranged life upside down. Dawn's beauty and sexual expertise leave Sanjay breathless. His infatuation with her escalates, disrupting his work and family life, until she proposes becoming his mistress, on condition that he never ask about her true identity. Sanjay lavishes her with jewelry, luxurious vacations, cash and even her own stock brokerage account. Their idyllic arrangement comes crashing down around them, however, when Dawn's parents try to arrange a marriage for her. At first, Dawn is incensed but soon realizes that her parents' concern for her future is justified. Terrified of her double life being exposed, she agrees to marry and breaks up with Sanjay. Though Dawn has tried not to be too hurtful, a jealous and enraged Sanjay hires a private investigator to uncover her disgraceful past. Dawn's father learns of his daughter's sordid hidden life and banishes her from the family.
Devastated, she drives her car off a bridge. Sanjay hears of her death and tries to take his own life. In the end, both lovers survive and meet by chance in Montréal. There, after an evening of soul-searching, they achieve forgiveness and find solace in each other's arms once more.



About the Author:
Arvind Kumar is the pseudonym of author, Professor in the Department of Internal Medicine, at a Canadian University. He was born in Simla, India, and earned a BSc at Punjab University, and MD at H. P. University, Simla. Thereafter, he pursued advanced clinical and research training at various prestigious Universities in Canada. He is now a Canadian citizen.
A specialist in Pulmonary and Critical Care, Kumar is a well known leader in his field nationally and internationally. He is a fellow of several medical organizations, including the Royal College of Physicians and Surgeons of Canada and the American College of Physicians. He has published numerous articles in medical and scientific journals and bulletins, as well as chapters in medical textbooks. He is also a senior editor and contributor to the award-winning eMedicine.com, a large medical reference site, and is a sought-after speaker at medical and scientific gatherings in Canada, the US and around the world.
In 2003, Kumar ventured into fiction and wrote his first novel ¾ FreckleFace (unpublished), a story of romance and love in the workplace. In 2006, writing as Arvind Kumar, he completed Dawnsearlylite, in which he applies his medical knowledge and experience to the realistic portrayal of hospital life and the pressures that the character Sanjay faces. This work is a product of his extensive and meticulous research of a number of issues confronting Western Society.
When he is not working, Kumar is a marathon runner, competitive distance cyclist and avid reader whose tastes range from ancient history to the kind of contemporary fiction that he himself writes.


Contact:

Arvind Kumar
3171 Vialoux Drive Winnipeg,
MB R3R 2R2 Canada

Phone: 204-510-7887
Email: arvindhot@gmail.com
Website: http://www.dawnsearlylite.com